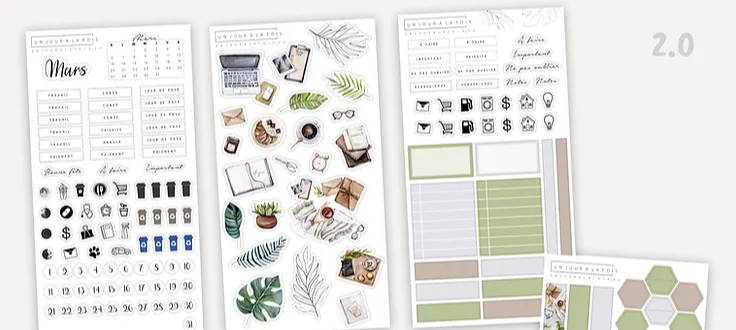 Receive a set of stickers directly at your home, every month!
​
Subscription content includes 5 large sticker sheets worth $25.50
which will allow you to organize yourself and decorate your agenda throughout the month! That's a total of over 175 stickers!
Two sticker sheets are exclusive to subscribers!
The "formula" of the subscription remains the same, only the theme changes each month.
To give you a better idea of ​​its contents, I describe each sticker sheet below:
---
3x TO DO

2x IMPORTANT

1x PRIORITY

3x REMEMBER

2x APPOINTMENT

2x NOTES

14 icons

2 long thin strips

6 small rectangles

2 large rectangles

2 large lists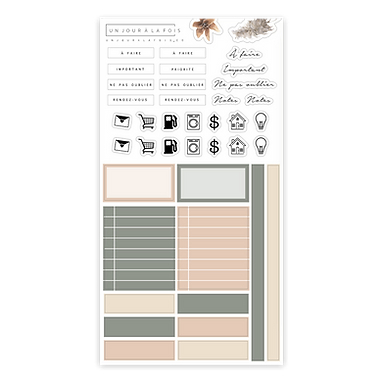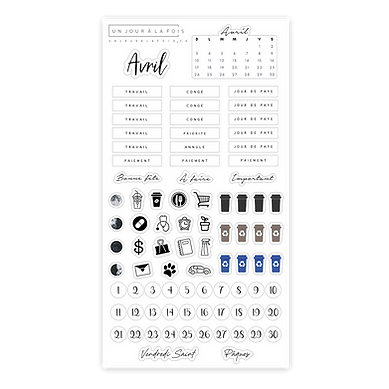 The name of the month

A small calendar

31 icons

The dates of the month (1 to 30/31)

The public holiday(s)

5x WORK

3x LEAVE

3x PAYMENT

1x CANCELED

1x PRIORITY

5x PAY DAY

1x HAPPY BIRTHDAY

1x TO DO

1x IMPORTANT
3 Washi tapes

4 hexagons and 4 half-hexagons

9 circles

5 hearts

1 ball

1 Moon

2 flags

2 ''trackers''

3 to 4 pictures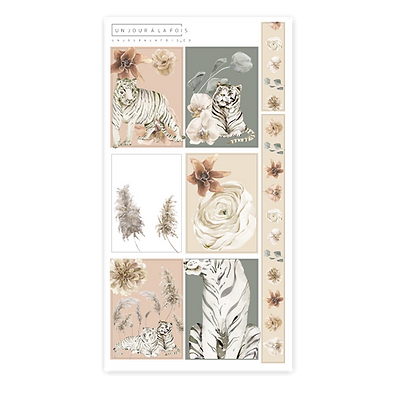 6 large rectangles (1.5 inches wide x 2 inches high)

2 Washi tapes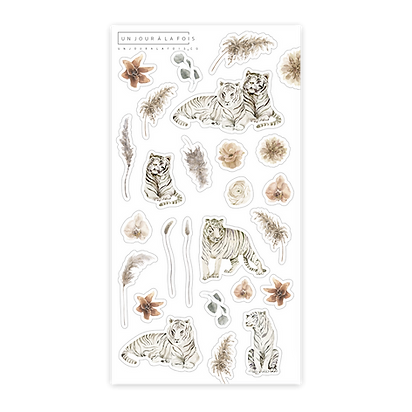 Always more than 15 illustrations
The subscription is for the duration of your choice: 1 month, 6 months or 1 year

It is not possible to combine regular orders with subscriptions simply for a matter of logistics.

It is necessary to subscribe before the 10th of the current month to receive the subscription in time for the following month (example: I subscribe on April 10 and I receive the stickers in time for the month of May)

Subscriptions made after the 10th will be valid for the following month only. (example: I subscribe on April 15 and I receive the stickers only for the month of June).

Envelopes will leave on the 10th of each month (or the next business day) by Canada Post lettermail, without tracking number.

In French only and for residents of Canada only.
​
IMPORTANT: Please check that the delivery address linked to your subscription is valid.
We cannot be held responsible if your envelope does not arrive if the address given is not the correct one.
---
1 YEAR SUBSCRIPTION
$15/month ($180 total)
Payable every 1 year
6 MONTH SUBSCRIPTION
$18/month ($108 total)
Payable every 6 months
1 MONTH SUBSCRIPTION
$19/month
Payable monthly
If you need the days of the week for your planning, I invite you to look
the first subscription that is a little different!
6-month and 1-year subscriptions automatically renew after your chosen period (after 6 months, renews for 6 months)

It is not possible to cancel the current subscription, it must end at the end of the period.

If you do not wish to renew your subscription when the period ends, contact us at info@unjouralafois.co